Contact The Phone Doctors
Solving your telephone, wifi & broadband faults and issues
Telephone, Wi-fi or Broadband problems? Contact The Phone Doctors
Your Telephone, Broadband & Wi-fi Engineer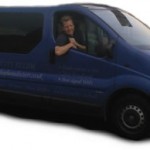 Simeon Roberts
// The Phone Doctor
I can work on anything be it wires, sockets, external bells or extensions as long as it is past where the BT socket ends. This then becomes BT property, but I can still prove if they are at fault that way they cannot charge you when they arrive.
Call me first for a quicker, better and much cheaper option than your service provider, offering out of hours and weekend services. If the problem lies within the outside network this will be covered by Openreach free of charge. If the fault is deemed to be on your property when Openreach arrive you will be charged substantially.
Sole trader. FSB Member. CRB checked. Newbridge and BT trained.
Telephone, Broadband or Wi-fi problem?
Look no further than The Phone Doctors,
the Wifi engineering experts:
Call 07771822206
thedoctor@thephonedoctors.co.uk