Cwmbran Telephone Engineer
I am an independent Cwmbran telephone engineer covering areas including South Wales, West Wales and the West of England. The telephone engineer services I provide in Cwmbran and surrounding areas include finding & repairing faulty lines for both home and business, data extensions, socket & general rewiring, telephone extensions & much more.
Need a Cwmbran Telephone Engineer today? Call 07771822206
Cwmbran Telephone Engineer Services
Telephone Fault Finding
I can diagnose, repair or upgrade anything on your side of the network at a greatly reduced price also with a one years guarantee   If I prove the fault onto the external network there will be a call out fee, then we will contact your ISP for Openreach to come and repair it for you.
If your provider says your line tests okay, but is still faulty call me I can help.
Telephone Extension – Sockets
I can Add aditional sockets to your phone line, ideal for Sky multi room or business phone in your home office. Telephone / data socket extensions from £40
General Rewire and Tidy Up
Relocate exsisting sockets around a room or to another room.  Do you have more wires than you need or not sure what goes where, then book a Tidy Up
External Extension or Outside Bell
If you require an extension to an out-building, shed, barn, storeroom or garage this can be done overhead.  If you require an outside bell for noisy environments like forecourts or farmyards so you don't miss that all important call.
Situated in Cwmbran & Carmarthen I can offer telephone engineer services to locations including:
[wpcol_1third id="" class="" style=""]
South Wales
Cardiff,
Swansea
Hereford
Newport, Brecon, Abergavenny
Chepstow, Monmouth and more.
[/wpcol_1third] [wpcol_1third id="" class="" style=""]
West Wales
Carmarthen
Dyfed
Pembrokeshire
Tenby
Havefordwest
Lampeter
[/wpcol_1third] [wpcol_1third_end id="" class="" style=""]
West of England
Bridgewater
Bristol
Newport
Bath
Swindon and more
[/wpcol_1third_end]
Your Local Cwmbran Telephone Engineer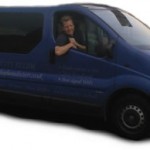 Simeon Roberts
// The Phone Doctor
I can work on anything be it wires, sockets, external bells or extensions as long as it is past where the BT socket ends. This then becomes BT property, but I can still prove if they are at fault that way they cannot charge you when they arrive.
Call me first for a quicker, better and much cheaper option than your service provider, offering out of hours and weekend services. If the problem lies within the outside network this will be covered by Openreach free of charge. If the fault is deemed to be on your property when Openreach arrive you will be charged substantially.
Sole trader. FSB Member. CRB checked. Newbridge and BT trained.
Telephone problem in Cwmbran or surrounding areas?
Look no further than The Phone Doctors,
your expert Cwmbran telephone engineer:
Call 07771822206 
thedoctor@thephonedoctors.co.uk